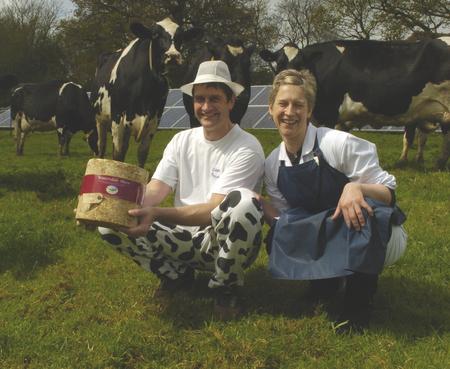 Ancient cheese-making techniques have been combined with the latest technology to create the first carbon-neutral cheese production in Britain.
The hard Winterdale cheeses are produced in Fairseat, near Gravesend, using traditional Cheddar methods involving cows, grass and a milking parlour.
Now cheesemaker Robin Betts has invested in renewable energy systems to produce the first carbon-neutral cheese in the country.
While three quarters of the family farm's herd of 90 Friesian Holstein cows see their milk going the usual way to make tea, coffee and cakes, around a quarter of the production is diverted to cheese.
The milk is now warmed, stirred, poured and eventually stored for nine months in underground caves specially excavated for constant temperatures, and using home-produced electricity.
The cheese is proving increasingly popular with customers. As well as selling at local shops, the 20,000 kilos of cheese produced each year also ends up in Fortnum and Mason, Oxford Street stores and John Lewis Bluewater.
Mr Betts said: "The way we are organised we were almost carbon neutral, so it didn't take much to go the whole way."