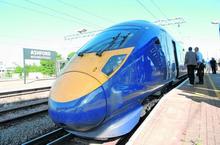 by Thom Morris
High speed trains have been modified after passengers suffered from 140mph wobbles.
Rail operator Southeastern has said the trains were suffering from a 'sideways movement' while travelling at speed from the town towards London.
The Japanese manufacturer Hitachi is now adding dampeners to the trains to ensure the fleet of 29 trains, which cost about £9 million each, is able to travel without the problem.
It is believed to have been caused as trains switch between the high-speed line and conventional tracks at Ashford and Ebbsfleet.
A Southeastern spokesman said: "There is a bit of slight sideways movement but there are no safety issues and we are in the middle of an ongoing programme to rectify the problem.
"We're adding dampeners to the bogies (the chassis carrying the wheels) and we've done 10 so far and the remaining ones will be completed in the next couple of months."
The trains are undergoing the modifications at the Hitachi depot in the town.
The high-speed trains will form the Olympic Javelin service in 2012 taking spectators from St Pancras to the Olympic park in Stratford.
Have you noticed the 140mph wobble? Leave a comment below.