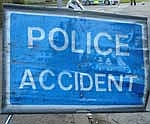 Fire crews had to cut free a woman after a car plunged down an embankment and came to rest in gorse bushes.
The accident happened at around 7pm on Friday when two cars collided on the A20 near Samphire Hoe on the outskirts of Dover.
One vehicle went down a bank into gorse bushes and came to rest against a fence.
Fire crews from Folkestone and Dover cut out the woman and she was taken to hospital suffering from back and neck pain.
A spokesman for Folkestone fire station said: "It appears one car clipped the rear of the other which sent it down the gorse bank.
"Luckily the car came to rest against a fence and the bushes. We stabilised it and cut off the roof the remove the woman onto a long board then passed her up the bank to the ambulance crew."
The rescue took about an hour and a half. No one else was injured.