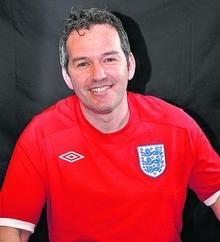 The World Cup song released in the year England lifted football's greatest prize has been brought out of retirement to cheer our lads on.
Skiffle maestro Lonnie Donegan's son, who grew up in Margate, has recorded a new version of the 1966 anthem World Cup Willie.
Tony Donegan, who works under the name Lonnie Donegan Junior, will release the record on major download sites on Monday (June 7) - just days before the World Cup kicks off in South Africa.
The catchy tune has been completely revamped and it is hoped its return to the terraces will be a good omen for Fabio Capello's England squad, 44 years since Sir Alf Ramsey's squad lifted the trophy.
The song is named after the cartoon character World Cup Willie - a little lion with a Union flag on his jersey who was the very first World Cup mascot.
Watch a video of World Cup Willie (2010) at bit.ly/cm5mhb. For more information, visit the official Facebook page at bit.ly/9YNzd9.