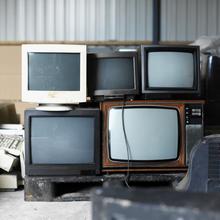 by business editor Trevor Sturgess
A waste electrical and electronics recycling firm has achieved a world first by recovering lead and glass from old televisions and computer screens on a commercial scale.
SWEEEP Kuusakoski, based in Sittingbourne, has injected £2million into the development of a ground-reaking furnace.
It has pioneered the recovery of lead and pure glass from leaded cathode ray tubes (CRT).
The new plant, which is being officially opened today, recovers one kilogramme of lead from each of the 4,000 CRTs
it can process a day by heating the granulated leaded glass to 1,000 celsius.
This enables the Kent-Finnish joint venture to reprocess around 10 tonnes of CRT glass a day from 60 tonnes of CRTs.
The project has created new jobs and SWEEEP, which now employs 200 people, has taken on workers laid-off when the Thamesteel mill in nearby Sheerness shut down.
The facility is due to be opened by Michael Fallon – business Minister and Sevenoaks MP.
Speaking ahead of the opening, Mr Fallon said: "SWEEEP Kuusakoski's new furnace will help tackle the growing global recycling problem of how to recycle old televisions and computer screens. Their continued success, employing more than 150 people, is great news for Kent.
"The green economy is at the heart of our economic recovery and the UK recycling industry has a very important role to play."
The furnace is powered by green energy generated from a photo-voltaic solar panel system. It generates approximately 50KWp, enough to power 12
households for a year and saving about 28 tonnes of CO2 emissions in a similar period.