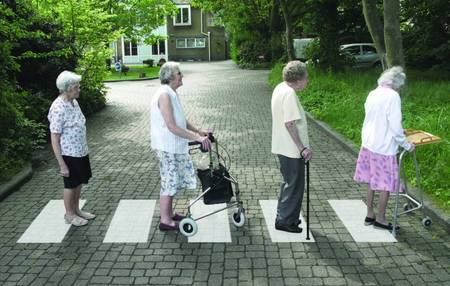 by Andy Gray
With their walking frames and sticks, getting across the road takes them a little longer that it used to.
But this group of elderly women have become the stars of a fun photoshoot - as they reproduced the Beatles' 1969 Abbey Road album cover.
The group walk across a zebra crossing like the Fab Four in the hilarious wrinkly remake of the iconic image.
The picture is among a series starring elderly people to celebrate a housing charity's 45th anniversary.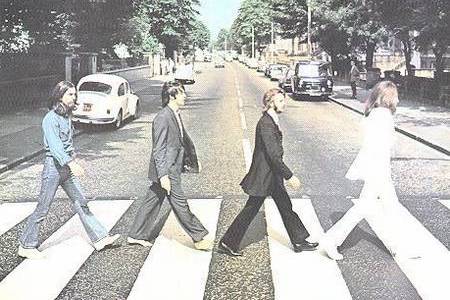 The Force was clearly with Alf Nicholls, from Larkfield, when he donned his Star Wars cape and lightsaber as "Oldie Wan Kenobi" on behalf of Abbeyfield Kent Society.
The charity, which provides residential homes for the elderly across Kent, produced a series of decade-defining images starring seasoned tenants for its annual report.
Alf, 88, who lives at Abbeyfield's St Martins care home in Larkfield, said he was delighted to play the Phantom Menace for a good cause.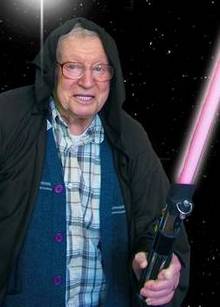 He said: "I was surprised when I got approached to dress up as if I was in Star Wars, but I was more than happy to take part.
"It was great fun and definitely made my afternoon a bit different.
"I love to do new things and this was certainly one of them."
As well as Alf's tribute to the 1970s sci-fi blockbuster, a suitably stupefied Homer Simpson represented the 1980s, a mature Harry Potter the 1990s, while Daisy Richards from the Greensted care home in Wateringbury provided the famous iPhone silhouette for the 2000s.
Abbeyfield houses more than 500 elderly residents at 16 locations across the county.
Emma Lovelock, the charity's marketing manager, said there was a serious message behind the pictorial stunt.
She said: "We wanted to show people that just because you live in a care home, life doesn't end there.
"Older people are not incapable or unwilling to engage with modern technology and gadgets, which even include the iPod.
"We wanted to show real examples of our residents and the fun side of their lives, which a lot of people don't think of when they think of care homes."