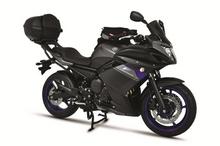 Yamaha has showcased a range of touring-specific models at the Carle Nash MCN London Motorcycle Show.
The firm has taken five of its popular all-rounders and touring bikes and fitted them with accessories to help riders cover big mileages in greater comfort.
Buyers can choose special Touring Series editions of the XJ6 Diversion F, the FZ8, the Fazer8 ABS, the XT660Z Tenere and the XT1200Z Super Tenere.
Among the extras, which vary slightly according to each model, are wind-deflecting bodywork, tank bags and heated grips.
The additions are bundled together into a package that costs less than if the accessories had been bought separately, and if purchased with a new bike Yamaha dealers will fit it all for you free of charge.
The packs cost from £400 on the XJ6 Diversion F to £1,500 on the XT1200Z Super Tenere, with savings ranging from £160 to £447.
All these accessories are covered by a two-year warranty when bought as part of the Touring Series offer. Normally Yamaha only offers a single year's warranty cover.
Touring Series models are available on Yamaha's current finance deals, and to find out more potential buyers should head to the Yamaha website or visit their nearest dealer.