Concrete Solutions
1st Choice Concrete offer a range of quality assured concrete mix designs for all varieties of domestic projects, such as fence post footings, shed bases and driveways. As the independent subsidiary of Brett Concrete, 1st Choice Concrete specialises in small load deliveries. The 1st Choice Concrete Minimix fleet are ideal for small load deliveries or where access or vehicle weight is an issue. The team offer a friendly local service, with the reassurance of a larger, well respected and established company to support them.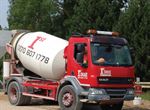 1st Choice Concrete, South East England
Whether you're undergoing a house extension, building a conservatory or garden room, or renovating an internal floor, you can contact 1st Choice Concrete for a free, no obligation, quote. Thanks to the minimix trucks, your small load of concrete can be supplied directly to your job without having to worry about excess. Our helpful and friendly drivers can also accommodate wheelbarrow unloading or discharge into your job directly by offering 45 minutes offloading time with each load, the team can get access to any area, meaning that small load concrete can be supplied directly to your home without having to worry about space.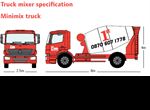 In addition, if you only require a small amount of concrete, you can order loads from as little as 1m3, and you only pay for what you order - with no hidden part-load charges. You can find out how much concrete you actually need by using the 1st Choice Concrete 'Concrete Calculator',and then get in touch with the team to place your order.

1st Choice Concrete operate throughout the South East of England; in numerous locations in Kent, Essex & Suffolk. You can contact 1st Choice Concrete by calling 01622 793842 or emailing the team on sales@1stchoiceconcrete.co.uk. Alternatively find out more about the service by visiting the the 1st Choice Concrete website.