Radhuny Indian Restaurant
Located on Lowfield Street in Dartford, Radhuny Indian Restaurant prides itself on its award-winning Indian cuisine. With fresh Indian dishes served seven days a week, you can be sure that your meal will be cooked with the care and attention it deserves. Our beautifully decorated restaurant opens daily from 5.30-11.30 and is perfect for couples, friends, families or even parties.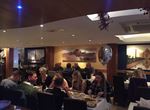 Indian Restaurant in Dartford, Kent
Open seven days a week, we serve a variety of Indian food and drinks. We take immense pride in offering wonderful customer service alongside our freshly cooked Indian food. If you wish to visit us we are situated on 87-89 Lowfield Street, Dartford, Kent.
You can book online or over the phone on 01322 223844; we are happy to seat you for any occasion or celebration. You can also contact us via email at radhuny@yahoo.co.uk. We offer online ordering and delivery. Afterwards, feel free to head over to our Facebook page to tell us how much you enjoyed your meal.