Pizza Takeaway in Kent
Paddy Pizza is a fresh artisan pizza establishment that opened recently in the newly renovated Gravesend Food Market. If you're looking for original Italian pizza, cooked fresh and served by the slice, get yourself down to the market for a taster. Whether you're after a quick bite while you're on the go, a casual lunch with friends, or are looking for a caterer for your party or event, Paddy Pizza is the perfect choice.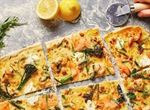 Paddy Pizza, Gravesend
Paddy Pizza uses only the freshest ingredients in order to prepare succulent pizza that can be bought either by the slice or as a whole pie. At only £2.50 a slice or £8.50 for a whole 14 inch pizza, Paddy Pizza's are both delicious and affordable; the toppings on offer include pepperoni, chicken, beef and ham. Alternatively, if you're looking for event catering, Paddy Pizza also offers pizza parties. Whether you're hosting a garden party, a corporate event, or even a wedding, why not take a more relaxed approach and serve your guests up some fresh Italian pizza? It'll certainly help to make it a night to remember!

You can find Paddy Pizza at Gravesend's Indoor Chartered Market. The opening hours are 9am to 5pm Tuesday-Saturday, or 10am-4pm on a Sunday. Alternatively, you can get in touch on 07879 457926 if you have an enquiry, or simply visit the Paddy Pizza website.