Business Support and Office Space in Maidstone, Kent
The Business Terrace was established in September 2015, and provides a professional space for startups where they can get advice and begin to grow. The Business Terrace offices are at a reduced market fee, and are all inclusive of bills. Flexible terms are available to reduce personal liability during the early business set-up stage. The past 18 months have seen The Business Terrace offices filled with thousands of customers.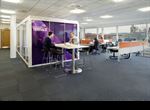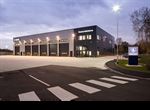 The Business Terrace, Maidstone
Are you a business or entrepreneur that's just starting up? The Business Terrace provides hot desks, offices, a calm meeting space as well as business advice for startups. Our cheap and flexible terms mean our environment and culture is better overall, and we're here to support you at the most crucial time of your business' development.
We are based in the heart of Maidstone, and are the home for three of Kent's "Top 30 under 30" entrepreneurs. If you need an exciting office space where you're able to network and collaborate with other entrepreneurs, become a part of our dynamic and inspirational business community today! There is currently a half price seminar room for members, and equal free use on referrals, so be quick and call us on 01622 239300. You can pop in to see us as at The Business Terrace, Maidstone Borough Council, Maidstone House, King Street, Maidstone, ME15 6JQ.
Free business advisors on site to assist you