Insolvency & Corporate Recovery Services - Kent
MFW Insolvency & Corporate Recovery provides professional insolvency and corporate recovery advice and support throughout Kent and the South East.
They are proud to have earned an excellent reputation gained through the insolvency and corporate recovery knowledge, skill and understanding of our Licensed Insolvency Practitioners (IPs) and specialist insolvency staff.
Their expertise
They have two Licensed IPs, each of whom is qualified to handle all aspects of corporate recovery and insolvency work. Between them, they have more than 50 years of insolvency experience. This experience has been gained assisting companies, individuals and creditors in all aspects of corporate recovery, insolvency, bankruptcy and financial restructuring.
When businesses or individuals are coming under financial pressure they understand this is a stressful and worrying time. Therefore, they aim to provide comprehensive advice to include all available solutions, tailor made to your individual circumstances.
Furthermore, you will be treated in a friendly, approachable and non-judgemental manner.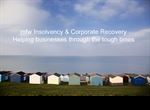 MFW Insolvency & Corporate Recovery's IPs are licensed through the Insolvency Practitioners Association. Additionally, Amanda Ireland is a Fellow and Alison Collier is a Member of the Association of Business Recovery Professionals (R3). You can therefore rest assured that the MFW Insolvency & Corporate Recovery team will act in accordance with best practices and ethical guidance.
MFW Insolvency & Corporate Recovery are a trading name of McCabe Ford Williams