Martins of Hawkhurst
Established in 1972, Martins of Hawkhurst are experts in electrical appliances for the home, providing appliance sales and installation. They stock a comprehensive range of kitchen and home appliances, with the option of actually trying before you buy. Instead of relying on a review, Martins of Hawkhurst offer their customers the chance to use a product, with cooking demonstrations and fully functional in shop display appliances. Their range includes kitchens, cookers, ovens, hobs and white goods like washing machines and tumble dryers as well as fridge freezers. Martins of Hawkhurst also design, deliver and install kitchens.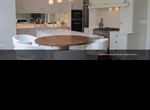 Home Services, Interiors and Electrical Appliances in Hawkhurst, Kent
Martins of Hawkhurst pride themselves on their relaxed approach to sales, choosing to guide the customer to the perfect product by allowing them to test their individual appliances before purchasing. They sell a range of high-quality appliances, from the low-end price bracket to the more high-end purchases, with both traditional and modern styles available. If you're looking for fantastic customer service, as well as quality electrical goods, we can guarantee that with every sale.