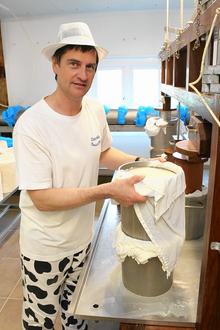 by Angela Cole

When farmer Robin Betts decided to dig a cave under the family barn for maturing cheese, his family were sceptical.
Realising his farm needed to diversify from milk production, he'd hit on the idea of producing cheddar.
The first sign the gamble had paid off came several years ago in the form of a bronze from the World Cheese Awards.
But Robin wasn't the sort to stop there. Looking at his herd of 60 Holstein Friesian cows, he realised he could make environmentally-friendly cheese.
The cows have grazed the Wrotham countryside since the Second World War and Robin relaunched his farm as the Winterdale Cheesemakers Dairy.
His eureka moment came when he realised their milk came out at 37 degrees – just a few degrees above the perfect cheese-making temperature, so no heat was needed.
Robin, pictured, said: "Then we realised we were using very minimal amounts of energy, so we could reach that goal of being the first carbon-neutral cheese.
"We have got a cycle of sustainability here. We aren't throwing away loads of plastic. We even use cotton muslin to wrap the cheese, which is biodegradable and which was the medieval way of doing it." Each morning, the milk is poured into a vat and culture added. An hour later it is mixed with further culture, but using electricity produced by solar panels stationed in the field.
The panels are so efficient they even power the Winterdale Cheesemakers barn on a cloudy day and produce more power than the farm can use.
When the cheddar is the right consistency, it is put into presses then turned out by hand at the end of the day.
They are wrapped and stored below ground in the cave-like cellar, which Robin dug back in 2006 – when the cheesemaking story began. It is where hundreds of round cheeses are busy maturing.
The farm, in Platt House Lane, produces half a tonne of cheddar every week, but it takes 10 months to reach the perfect maturity.
Robin delivers it using a Nissan-sponsored electric car, which also charges from the solar panels, before it heads off to outlets. On Friday the first deliveries to farm shops and restaurants around Kent were made.