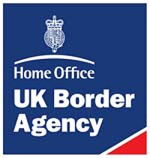 Threee illegal workers were arrested at businesses in Maidstone as part of a countywide operation.
UK Border Agency officer visited Marino's Fish Bar in Hart Lane where a 20-year-old man from India was found to have entered the UK illegally.
A 41-year-old from Bangladesh was also discovered to have entered the country illegally during checks at Hilltown Cuisine in Union Street.
Officers also called at The Taste of Bengal in Ashford Road, Harrietsham, where it was revealed a 33-year-old man from Bangladesh had not left the UK when his visa expired.
All three were arrested and placed in immigration detention.
The men aged 20 and 41 remain in detention pending their removal from the UK. The 33-year-old has been released but must report to the agency while his case is considered.
Jackie Fowler, head of the UK Border Agency Local Immigration Team in Kent, said: "Those who are here illegally should be in no doubt that they will be found, arrested and removed from the country."
The businesses involved have been handed penalty notices.
Anyone who suspects illegal workers are being employed should email intelkent@homeoffice.gsi.gov.uk or call 01303 247070.