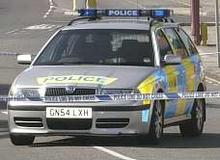 by Angela Cole
Armed police arrested a man after an incident in East Peckham on Tuesday afternoon.
The man had found his way into a house in Pattenden Gardens, although no-one else was in the property at the time.
Following his arrest, an axe was recovered from the scene.
John Abbott, 49, of Pattenden Gardens, East Peckham, appeared before Sevenoaks magistrates today (Thursday) charged with criminal damage.
He was remanded in custody.