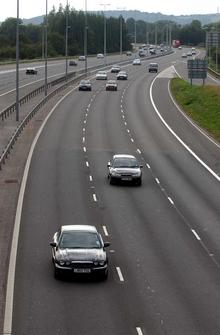 Five people from West Malling have been arrested as police probe incidents of cars being fired at on motorways with airgun pellets.
Police issued a warning to motorists last month after a series of incidents on the London bound section of the M20 at the junction with the M26 were reported.
Three cases happened between 6pm and 7pm on Tuesday, October 16, when the motorway was at its busiest with rush-hour traffic.
Police believe that airgun pellets had been fired at moving vehicles, and at least one motorist has sustained injuries.
This week a 17 year old woman, an 18 year-old man and a 19 year-old man, all from West Malling, were arrested on suspicion of criminal damage with intent to endanger life.
They were later released on bail until December 4, pending further investigation.

On Friday morning, a 15 year-old boy and a 20 year-old man, both from West Malling, were arrested and are currently in custody.

Chief Inspector Jon Kirby from Kent Police said: "We are very grateful for the information we have received so far, which has allowed us to arrest five people. Our investigation is ongoing and I would continue to ask anyone with information to contact us."
Witnesses or anyone with information about who may be involved is asked to contact Chief Inspector Jon Kirby at Kent Police on 101.