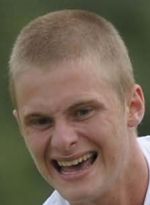 Ashley Jackson has been named in England men's indoor squad to compete at the EuroHockey Indoor Nations Championships in Leipzig from January 13-15.
Jackson, from West Malling, is one of nine players in the squad that won England promotion to the elite championships from Europe's second tier two years ago when they topped the standings in Poznan.
Despite missing the indoor World Cup, Jackson leads England's goal-scoring exploits going into the European tournament having scored 20 in his 12 indoor international appearances. 
His call-up comes on the back of helping East Grinstead qualify for the Maxifuel Super Sixes Finals at Wembley Arena later this month. They won the Maxifuel Super Sixes Championships Men's Premier Division on Sunday to secure their place in the Wembley showpiece. 
England men's indoor head coach Andy Halliday said, "With the Olympic Games only 200 days away, we are utilising the short indoor season to support our London 2012 preparation.
"The European indoor competition is an ideal opportunity for players in the Olympic training group to develop and hone tight skills in a pressured environment. As a consequence, this is an asset to our outdoor game.
"Primarily, selection for Leipzig has been made with outdoor development in mind. However, injury status and fatigue have also been taken into consideration.
"With the increased workload of an Olympic year some players will benefit from spending time concentrating on their strength and conditioning programme ahead of our return to outdoor hockey towards the end of January."
In Leipzig, England's men will compete against the continent's top exponents of hockey's indoor format including 2008 European Champions Russia, the Czech Republic and the Netherlands, with whom they are grouped in Pool B. 
Pool A features World Cup Winners and hosts Germany, defending European Champions Austria, Spain and Switzerland, who also won promotion from the second tier in 2010.