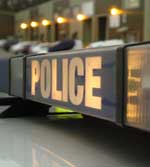 by Angela Cole
A man tried to grab a woman's handbag as she got off a coach in Sevenoaks.
Police are investigating after the incident on January 31 in Bat and Ball Road, at around 7.30pm.
The woman, who is in her 50s, got off a coach in Otford Road, but as she made her way into Bat and Ball Road, she was approached by a man who attempted to grab her bag, but was distracted by a couple who were walking out of the railway station.
He is described as between 25 and 29, with dark skin, around 5ft 10ins tall, unshaven, and was wearing a dark jacket with a hood and dark trousers.
The man left empty handed but police are now appealing to anyone with any information, or any witnesses, to get in touch.

Anyone with any information can contact Kent Police by calling 101, quoting crime reference YY/2183/13.