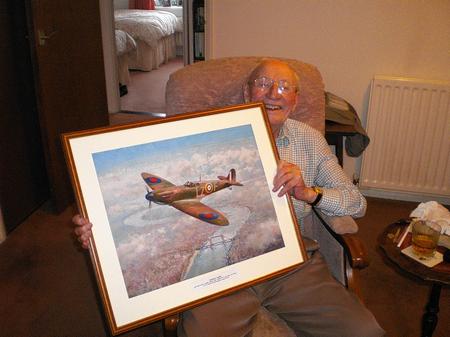 by Angela Cole
Maidstone's own Battle of Britain pilot, Jimmy Corbin, has died at the age of 95.
Mr Corbin was one of Churchill's "Few" who flew as pilots in the skies over Kent during the Battle of Britain.
Made a Freeman of the Borough in 2010, Mr Corbin attended school in the town, and after the war returned to work as a teacher at Maidstone Technical School.
Cllr Dan Daley (Lib Dem), who had known him for 20 years, said: "He was a true Maidstone man and a very modest man. It was an incredible life if you consider it. He came from very humble beginnings; the son of a plumber. I was proud to have known him and also to have been able to sponsor his Freedom.
As an RAF Sgt, Mr Corbin logged 1,500 flying hours in Spitfires and always remembered the ultimate sacrifice made by many young pilots who served alongside him.
He told those assembled at the town hall to see him receive the Freedom: "We were a very tight bunch of lads. We didn't have time to mourn. You either escaped it or you didn't. Looking back, they were great boys. It was a marvellous time of camaraderie and friendship. I managed to live through it luckily. I have no complaints whatsoever. I have had a wonderful life. I wouldn't want to do it again, mind you. I wouldn't be that lucky."
Mr Corbin, who leaves widow Jeanne, died at home in Bearsted.
For full story see tomorrow's Kent Messenger.