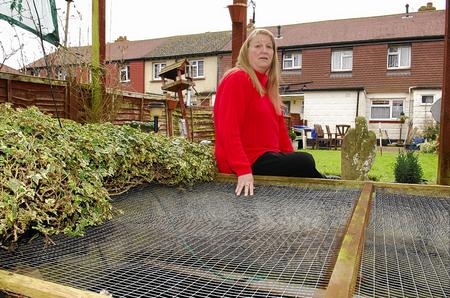 by Angela Cole
It may not be a palace, but Sally Moore does not want to leave her home of 36 years. To pay her bills, the 58-year-old buys her shopping monthly and freezes it. She doesn't use lights at night, and rarely goes out in her car. But this frugal, £90-a-week existence and careful budgeting is futile against the government's welfare reform, under which she is deemed to be "under-occupying" her th ree-bedroom home and must pay an extra £25 a week or move.
With no way of finding the additional funds, Sally, who cares for her 80-year-old diabetic mother next door, has taken the decision to move out.
Sally, who has lived in the same Mangravet street almost all her life, first with her parents a few doors down and then with her late husband and three sons – Paul, 38, Barry, 36, and Gareth, 34 – is now one of a raft of Golding Homes tenants looking to take part in a mutual exchange before the new charges come in.
This means she is hoping to swap her home with a family who live in a two-bedroom property.
But with many tenants looking to downsize, the demand for smaller houses is much larger than the want for bigger homes.
"They can pick and choose," observed Sally.
Her carefully-kept abode, which includes a kitchen she put in herself and large fish pond in the garden, will be hard to replicate.
She said: "I don't want to move far. I need to get to my mum. I go round twice a day.
"It is a huge worry. My blood pressure has gone up again."
Sally hopes to find a new base with a garden, so she can take her fish, but her 15-year-old cat Minnie will be moving in with her mum to prevent too much upheaval for the elderly feline.
A new two-bedroom home will mean Beacon Church volunteer Sally pays an extra £14 a week, but she says switching to a one-bedroom property would be impossible.
"It is still going to be hard to pay for one room. But I need to be able to have mum with me if she gets really ill. My son who lives in Essex also needs to stay when he visits."
Mutual exchange is just one way tenants can tackle under-occupancy.
For advice on the welfare reforms, call 01622 602557.
The Kent Messenger is running a series of features on the changes in the coming weeks and how they will affect thousands of people when they come into force in April.