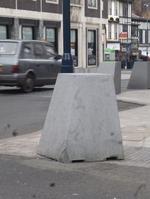 It's a mystery. Two huge granite blocks – part of Maidstone council's new-look High Street – seem to be turning on their axes.
You would have thought that it would take the Royal Engineers and a team of Gurkhas to shift the blocks that must weigh getting on for a ton each.
Nevertheless two of them, at the junction of Pudding Lane with High Street, have definitely swivelled around 45 degrees since they were installed.
Are the town centre's late-night revellers organising themselves for some kind of drunken Iron Man challenge?
Is it an alien visitation?
Cllr Malcolm Greer, the cabinet member responsible for the High Street regeneration programme, thinks he has the answer.
"It's the buses, or at least HGVs, turning in at that corner," he said.
"We think they are occasionally striking the blocks and shifting them around."
His theory seems to be supported by a chip at the bottom of one of the blocks.
Cllr Greer said the council was aware of the movement and had already taken steps to address the problem.
He said: "Apart from the movement of some of the blocks, we feel their design is wrong too.
"When work starts on the regeneration of the Lower High Street in March next year, it is our intention to have all of those large blocks replaced."
He said a new design would be about two feet in diameter and around three feet high. He said: "This time they will be embedded in the ground so that they can't be moved."
Cllr Greer insisted alternative more appropriate sites would be found to re-use the existing blocks.
"They will not be wasted," he said.