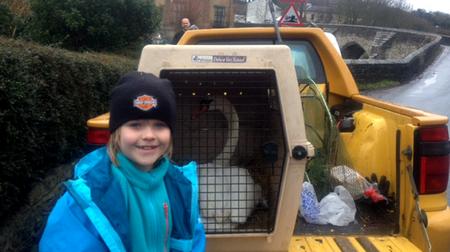 An eight-year-old boy braved near sub-zero temperatures to protect a battered swan... armed only with an umbrella and a loaf of bread.
Jos Maxey had been out at East Farleigh bridge yesterday when a male swan who had recently moved into the area attacked the sister of his new mate.
Brave Jos, armed with his rainy day protection and some bread for the swan, stood vigil for almost two hours to protect the bird from his swan attacker.
The young female had managed to climb onto the bank with a suspected broken wing.
She had become trapped and was clearly in a lot of distress.
Volunter Roger Frankland-Hale, of the Bow Bridge Marina in Wateringbury - who helps out the Shepperton Swan Sanctuary - came to the aid of young Jos.
The bird was caught and given a thorough examination before being rehoused with around 30 swans and a further 10 cygnets at Wateringbury. She was said to be uninjured, but "totally exhausted".
Mr Frankland-Hale said after the incident: "Young Jos did a very good job.
"Most youngsters are fairly intimidated by swans - they can be quite aggressive.
"He was very, very brave and I would give him 10 out of 10."
Jos is said to be hoping to keep in touch with the swan's progress, who he has named Charlie.
If anyone wants to know more about the work of the Shepperton Swan Sanctuary, or Mr Frankland-Hale's swans at Bow Bridge Marina, visit the sanctuary's website.