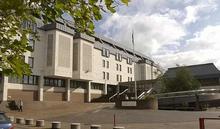 by Keith Hunt
A builder accused of groping a teenage girl is facing sentence after being convicted of sexual activity with a child.
Nigel Duvall told the victim she was beautiful and sent her a text message telling her he was falling in love with her.
The 48-year-old, of Marshall Gardens, Hadlow, near Tonbridge, denied committing the offence between February and March last year.
Maidstone Crown Court heard Duvall became over-friendly with the girl and made her feel uncomfortable.
On one occasion she was standing behind him when she felt him touching her. "In her words, he groped her," said prosecutor Alexia Zimbler.
"He turned around and smiled at her in such a way that she was in no doubt as to what it meant."
Three texts from Duvall were found on the girl's phone. The first said "Beautiful" and ended with three kisses. The second read: "You look really beautiful." The third stated: "I think I'm falling in love with you."
Duvall told police he had been informed the girl had a crush on him and he texted her "to put her off".
"He said that when he was drunk at a party he decided, as a bit of a joke, to send that message," said Miss Zimbler.
"He said he had no interest in her sexually or otherwise and what she claimed happened when he groped her wasn't true. He said no sexual touching took place."
After the 10-2 majority verdict, Judge Philip St John-Stevens adjourned sentence for reports until February 4. Duvall was granted bail.