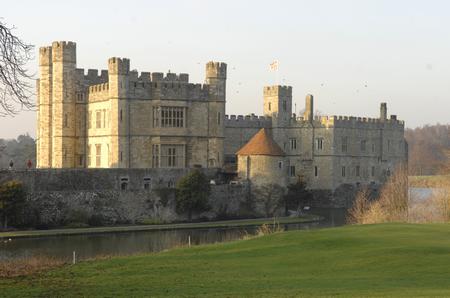 Leeds Castle has been given permission to offer a camping experience with a luxury twist.
The historic venue was last night told it could push ahead with plans to build a 'glamp' site on a disused vineyard in its countryside grounds.
Victoria Wallace, chief executive of Leeds Castle, sold the idea of glamorous camping to members of Maidstone council's planning committee.
The idea of 'glamping' allows people to enjoy the outdoors but instead of a sleeping bag on the muddy ground and stocking up on tinned food, they can snuggle up in a bed and go to the fridge if they fancy a snack.
It has been made famous by Kate Moss, who chooses to camp in style at festivals such as Glastonbury, and the cast of The Only Way is Essex.
Despite concerns from neighbours about noise and added traffic, members voted in favour of the eight tents and associated landscaping.
Mrs Wallace said the site would have a medieval theme to compliment the Grade I listed castle.