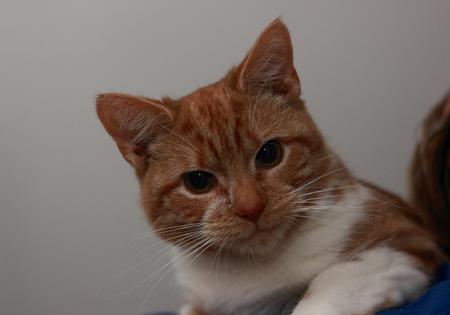 by Angela Cole
You should be able to depend on cats' eyes - especially if you're a cat - but for one unusual puss looking for a new home, hers have let her down.
The challenging task of rehoming seven-month-old Lady Lulu who has a disease of the retina and will eventually be completely blind, has fallen to the recently reformed Maidstone and District branch of Cats' Protection.
They are confident that Lady's special requirements will not prevent her from finding a permanent home.
As she is partially sighted, she can get about indoors, and once in her new home, will be able to learn the layout of the house quickly. She can be left for a few hours at a time, but would not suit a home where her owners are out at work all day.
When she goes out in the garden, she needs to wear a little harness – effectively a lead.
Branch coordinator Alan Fox said: "The branch has successfully homed many cats but every once in a while we get a special little feline that will need that little bit of extra special care and that is why we are appealing to the Kent Messenger and its readers for help in finding a special loving home for Lady Lulu."
She is a very loving cat and likes nothing better than to have a cuddle and a "chat." She also likes to run and jump and will play with a ball, if it has a bell in it, as she can follow the sound.
She is looking for a home with a secluded, safe garden, where she could be the only pet and there are no young children.
She has been spayed, micro chipped and vaccinated.
Anyone interested in taking her home will be able to speak to the branch's vet and can have an information pack on caring for a partially sighted puss.
For details call 0845 371 2758 or visit www.maidstone.cats.org.uk.