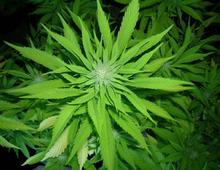 by Keith Hunt
A cannabis addict who was warned custody was "almost inevitable" after admitting growing the drug has walked free because a judge decided there was a more constructive way of dealing with him than sending him to jail for four months.
Jobless Abiola Adenmosun was given a suspended sentence, supervision and 175 hours' unpaid work to get him "back into the work ethic".
The 22-year-old father grew 20 cannabis plants at the home of his girlfriend's parents in The Tideway, Rochester.
Police went to the house on April 7 last year and found Adenmosun there with his brother and girlfriend. The plants, with a street value of up to £9,600, were in a "growing area" and near to maturity.
Iestyn Morgan, prosecuting, said it was "a relatively professional set-up". Officers also seized bags containing 16 grammes of strong skunk cannabis, lists and a receipt for hydroponics equipment.
Adenmosun, now of Hards Town, Chatham, even had a picture of mature cannabis plants on his mobile phone.
He admitted cultivating cannabis, but his claim that the drug was for personal use only was not accepted by the prosecution.
Matthew Davis, defending, said Adenmosun had been addicted to cannabis since the age of 17. He claimed he was growing the drug with his girlfriend's father.
Adenmosun left school without qualifications and moved to Kent from London when he met the mother of his five-month-old child. Drugs had blighted his life and led to offending.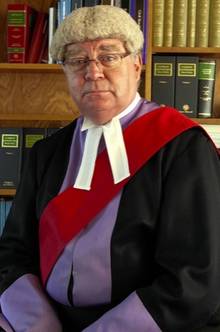 Told that he was looking for work as a courier driver, Judge Charles Byers (pictured right) said: "I am not particularly impressed with that. It would be like putting an alcoholic on a motorcycle."
Judge Michael Carroll warned Adenmosun he was facing custody when he entered his plea in December.
But Judge Byers took a different view and imposed eight months' imprisonment - suspended for two years. Adenmosun was told he would have to engage with drug services during 18 months' supervision.
"Seeing as this is the first time he has been involved in drugs, whatever my suspicions are, I will pass sentence on the basis of the lowest common denominator," said the judge.
"It might be more constructive than sending him inside for four months."
He told Adenmosun: "I accept you may be a habitual cannabis user, but that is no excuse. You must understand that people who produce cannabis are producing a dangerous drug.
"It causes all sorts of health problems, including schizophrenia. The sooner you rid yourself of that habit, the better.
"You have not sought to blame anybody else and that weighs heavily with me. You are doing something to take responsibility with your life.
"I am just able to pass a suspended sentence because of your guilty plea. If you fail to do any of the activities, you will serve the eight months."