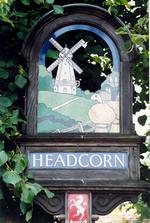 People are being encouraged by police to say "no" to cold callers.
A "cold calling control zone" is being set up in Headcorn by the Maidstone and District Neighbourhood Watch Association.
The zone is designed to deter cold callers from knocking on doors trying to sell products or services and encourage residents to have the confidence to say "no" to them.
More than 100 people attended an event by Kent Police Watch Liaison Officer Lorraine Hemphrey at Headcorn Village Hall to tell people about it.
In the coming weeks, all Headcorn residents will receive window stickers and a leaflet with hints and tips on how to protect themselves. Signs will also go up promoting the scheme and deterring ˜cold callers" from knocking on doors.
Headcorn residents interested in finding out more about the zone can contact Lorraine Hemphrey on 01622 604395 or email Lorraine.hemphrey@kent.pnn.police.uk