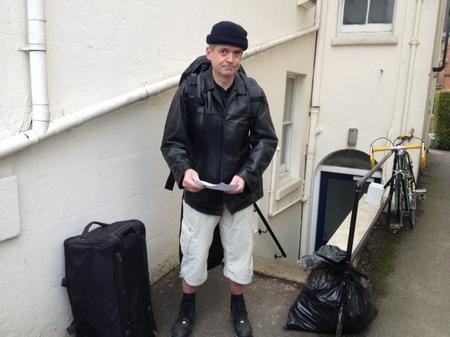 A compulsive hoarder has been evicted from his property after losing a court battle.
Brian Clenshaw's landlord feared his huge collection of newspapers, magazines and books had become a fire hazard at the flat, in Mount Ephraim, and a threat to the building's safety.
A.E.Chattell & Sons, whose offices are based in the building where Brian lives, won an order last year from Tunbridge Wells County Court for him to be evicted.
Despite now being officially homeless the 52-year-old said he wanted to look at the eviction in a positive light to help put an end to his hoarding days.
He said: "One day I'd like to come back and shake hands with (landlord) James Chattell and say thank you because I was in a rut.
"This is a turning point, it's a watershed in my life, I am scared, of course, but I've got my health.
"I've collected the good stuff like coins and stamps, which I can sell, but I want to come back for photos, my degree certificate, my CV because I want to get back out working."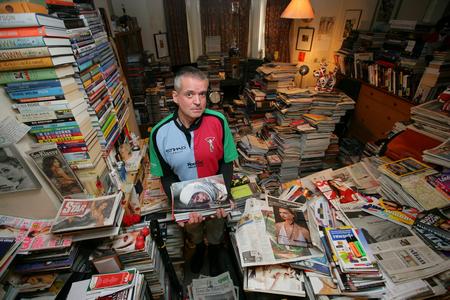 Despite continued conflict with Mr Clenshaw, landlord James Chattell hopes he can move on with his life.
He said: "We are desperately sorry we have had to take this action to evict Brian. We wish him the very best for the future.
"The flat was a real fire risk, in terms of protecting the building and other occupiers of the building we have had to take this action to make the building safe."
Mr Clenshaw, who believes he suffers from Obsessive Hoarding Syndrome, claims his obsession became uncontrollable when a serious cycling accident dramatically changed his life in 1997.
He said: "I was run over by a 10 tonne lorry, which left me with a smashed pelvis, impotent and incontinent."
"I could have walked away with £189,000, but my lawyers said I should have gone to the High Court to get more money, but they stuffed it and I didn't get a penny.
"That's when I started struggling and that's when the hoarding took off.
"I was buying all sorts of things from magazines, books, CDs and DVDs. I started a serious coin collection, spending hundreds of pounds and collecting stamps.
"I was in denial at not having this £189,000."
Mr Clenshaw has now moved into a local hotel for two weeks until he can find a permanent location to live.