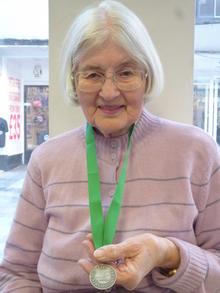 She has undoubtedly done more to protect the landscape around Maidstone than any other single individual in recent decades.
In recognition of her tremendous achievement, Felicity Simpson was awarded the Countryside Medal, the highest award of the Campaign to Protect Rural England at the annual meeting of the Kent branch, Protect Kent.
Dr Simpson said the award was entirely unexpected and she said she was "thrilled to receive it."
It was presented to her by the branch president, the artist Graham Clarke.
Dr Simpson, from Thurnham, joined the Maidstone branch of CPRE in 2001 after retiring from 16 years' service as a county councillor, She quickly became chairman, a position she held until her retirement in 2011.
Mr Clarke said: "Felicity's expertise is highly respected, never more so than in her campaign against the Kent International Gateway planning application at Bearsted, one of the largest public inquiries that the Kent branch has participated in."
Even though she has now retired from her duties as chairman, she has continued to be heavily involved in representations on the emerging Maidstone Core Strategy.
Mr Clarke said: "Felicity has given outstanding service to the countryside in Kent and this award recognises her considerable contribution."
Dr Simpson, 74, earned a First in Geography at Cambridge University and did a PhD in land use studies in the La Trobe Valley, near Melbourne in Australia, before becoming a secondary school teacher, teaching at both Maidstone Boys' and Girls' grammar schools.