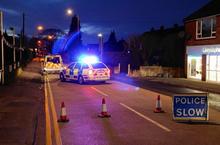 by Angela Cole
An accident involving two vehicles left the main road through Coxheath closed yesterday afternoon.
The crash happened in Heath Road, near its junction with Culpepper Road, at around 3.15pm.
It is thought one of the drivers collapsed while behind the wheel.
The motorist was taken to hospital after being treated by paramedics at the scene.
The driver of the other vehicle is not believed to have suffered any injuries.
The area reopened at around 6.35pm.