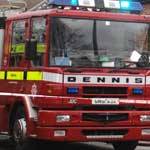 Crews were called to two chimney fires in Maidstone last night.
The first took place at a house in Dean Street, East Farleigh at about 6.30pm.
One pump from Maidstone attended and the incident was dealt with by about 7.15pm.
There was no damage to the property.
The second blaze happened in Plantation Lane, Bearsted at about 8pm.
A Maidstone crew was called and it was extinguished by 8.55pm without damage being caused.
Kent Fire and Rescue Service has issued the following chimney fire safety advice on its website:
.Have your chimney swept at least once a year – more frequently if you burn wood
.Make sure the appliance receives enough air to allow the fuel to burn properly
.Only burn suitable fuels
.Do not overload the grate/appliance
.Maintain your appliance in accordance with the manufacturer's instructions
.Use a fire or spark guard to prevent accidental fires
.Inspect your chimney breast, particularly the roof space. Make sure that it is sound and that the sparks or fumes cannot escape through cracks or broken bricks.
.Avoid storing items in the roof space close to your chimney
.Consider having a carbon monoxide detector fitted as an additional safeguard against the build up of poisonous fumes.