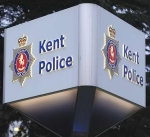 Police have accused thieves of putting lives at risk by stealing a defibrillator from a cricket club.
Officers are investigating the theft of the medical equipment from West Malling Cricket Club, which members kept in case of an emergency.
The life-saving machine can give the heart an electric shock if somone suffers a cardiac arrest.
Maintenance worker Chris Gosney noticed the equipment was missing just after noon on Sunday.
He said: "It would be terrible if, suddenly, we needed it and it wasn't there. It could potentially cost someone their life."
South East Coast Ambulance donated the £800 defibrillator to the club, in Norman Road, last year.
Mr Gosney, 40, said: "We were offered it as there wasn't one in our area, though it remains the property of the ambulance service. We just host it.
"It's not kept under lock and key as the idea is it is readily available in an emergency. I've no idea why someone would steal it as if you tried to sell it I'm sure questions would be asked as to where you got it from."
Darren Reynolds, head of voluntary services at SECAmb, said: "Defibrillators are such vital pieces of life-saving equipment. It's really sad that someone has done this.
"It's completely mindless and will be of no benefit to those who stole it. I'd urge anyone who has any information at all to come forward immediately."
Antonio Iantosca, a police community support officer, said: "The defibrillator wasn't secure as people always need access to it.
"We have the serial number though, so it can easily be traced back to where it came from.
"It won"t be worth much money to someone who didn't know how to use it, so I ask anyone who knows who might have taken it to get in touch so it can be put back."
Anyone with any information can contact Kent Police on 101, quoting crime number YY/1980/13.