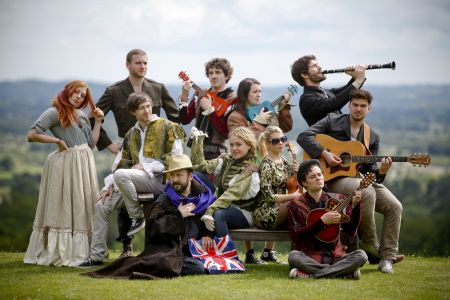 by Chris Hunter
Hark, 'hearst thou yonder melody that curls about thine ear as the fern in spring?
Let us away to the Forest of Arden, where we may tarry awhile on green nature's soft shoulder and free our wearied-feet of the stony world of man.
Or failing that - it is a pig of a drive to the Forest of Arden after all - we could always head up to a pastoral idyll closer to home, at Boughton Monchelsea Place, where the lawn and views are a good deal softer and prettier than the kerbs of Maidstone High Street.
The venue will set the stage for a series of performances of Shakespeare's pastoral comedy As You Like It, from tomorrow (Friday, June 22) throughout the weekend, after which the players from the Changeling theatre group move to venues around the County - including Mote Park on Tuesday, June 26 - before returning to Boughton Monchelsea Place for a run of shows at the start of July.
And the group were on site this week, pictured here getting into character in front of the Arden-esque backdrop of the Kentish Weald.
Other venues for the play - directed by Rob Forknall - will include The Friars at Aylesford; Vale House in Loose, and Great Comp Gardens near Wrotham Heath.
For full listings and information www.hazlittartscentre.co.uk or ww.changeling-theatre.com, or call the box office on 01622 758611, forsooth.