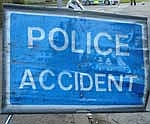 A cyclist has escaped a crash with minor injuries.
The casualty, who was riding a pushbike, collided with a car near the Ham Hill roundabout, off the A228 in Snodland, at around 1.40pm.
The patient was taken to hospital as a precaution.
The car veered into a lampost but it is believed the driver escaped unharmed.
Kent Police also attended the scene.