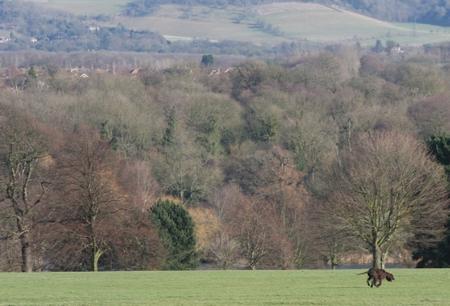 A detective heard her children's nanny had been found dead in Mote Park over the police radio.
Laszione Peto, 56, was found hanged on June 24 this year, an inquest heard, when DC Kinga Hammersley was on duty.
Hungarian-born Mrs Peto was nanny to DC Hammersley's pre-school children and lived in Maidstone with the family.
"I was very happy with her," Mrs Hammersley told the inquest. "We had a friendship. She was very happy with the children."
Mrs Hammersley said she was aware of Mrs Peto's previous suicide attempts in Hungary 10 years ago - the country where she was being treated for depression - but had no reason to think she would kill herself.
Shortly before her death, Mrs Peto - who was planning to settle back in Hungary - visited her daughter in London, returning to Maidstone in low spirits.
Mrs Hammersley said: "She also seemed unhappy over the wages I had left her on the Friday. I told her there was nothing we could not work out after I finished my weekend duty."
On the day of Mrs Peto's death, Mr Hammersley was at home looking after the couple's children.
Mrs Hammersley said: "I was at work on the Sunday morning and I heard of the report [at Mote Park] over the police radio. I didn't attend. I had no reason to think she did what she did."
Mrs Peto's daughter, Zsuzsanna, giving evidence, said her mother suffered from mood swings and had previously tried to commit suicide in Hungary, where she had issues with her husband. She had not sought treatment in the UK.
Ms Peto said: "She could sometimes think the whole world was against her. There were also times when she felt everyone was talking behind her back."
DI Chris Benson, who attended the scene and carried out the investigation into Mrs Peto's death, said it was clear that she had taken her own life, telling the inquest: "There were no injuries on her or signs of disturbances around the area – nothing suspicious, no notes or diary entries."
A post mortem found that another contributing factor to her death was poisoning in her blood from a drug usually used to help prevent tropical diseases.
Assistant deputy coroner Gail Elliman concluded: "She had a history of suicide attempts. My final verdict is that she took her own life."
Anyone in need of support can call the Samaritans on 0845 790 9090. Their free and confidential helpline is on offer 24 hours a day, every day.