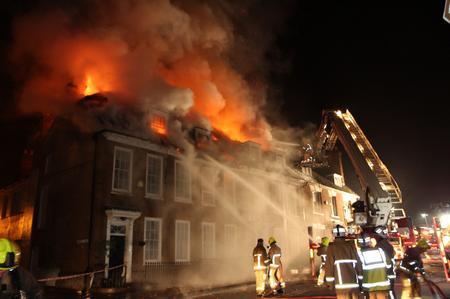 by Susan Hilder
A neighbour has described how three families watched helplessly as their homes burned down in a huge fire in West Malling last night.
Sixty firefighters tackled the blaze that broke out in a row of period houses in the High Street at about 11.30pm.
The fire started in the loft of one house - before spreading to two other properties.
Smoke billowed from the roof as crews battled to control flames licking the skyline.
"these people have got nothing except what they stand in..." – neighbour jeffrey hurst
Two houses have been destroyed after the roof fell in and the other has been severely damaged. The residents - three couples - escaped uninjured.
Neighbour Jeffrey Hurst described how the occupants watched as their houses burned down.
He said: "They are all our friends, all three of the families. Fortunately everybody got out, nobody got hurt at all. Their lives are severely ruined because they've got nowhere to live.

"These people have got nothing except what they stand in, they've got no clothes - nothing.
"I saw all six of them, three couples, and we were standing together watching their houses burn down."
Mr Hurst added: "These are period houses - listed buildings. It's quite serious, there's nothing left of them now.
"The roof of the first one just completely fell in and all that's left is a shell now.
"These are three-storey houses and they are maybe 200-years-old so the wood in them is like tinder and you could see the fire running along the cornice just above the top windows. It's just extraordinary."
At the height of the blaze, 10 fire engines and two height vehicles were at the scene.
Around 30 firefighters were still damping down this morning.
Kent Fire and Rescue Service said the cause of the fire is not yet known.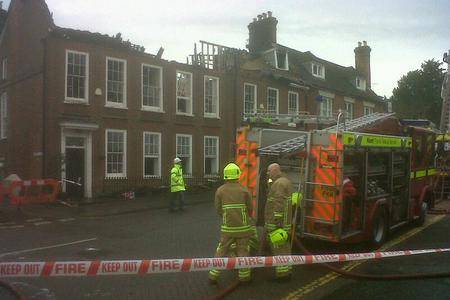 Meanwhile, around 30 firefighters tackled a Maidstone house fire at just after midnight.
The blaze broke out in the kitchen of the St Philips Avenue property before spreading to the first floor and loft.
Six crews spent two hours battling the fire, which left the building severely damaged.
It is not thought anyone was injured and the cause is being investigated.