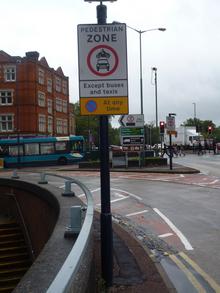 The reason why motorists may have been able to get away with ignoring a traffic sign prohibiting cars from entering Maidstone High Street has emerged.
Kent Highways has erected a prohibition sign in Fairmeadow, banning private cars and motorbikes from turning into the High Street.
But it has emerged the sign has gone up in the wrong place.
The police consider the sign banning private vehicles is too close to the entrance to the High Street, giving motorists insufficient warning, and that any prosecutions could be successfully contested in court.
For that reason, police have so far been issuing only verbal warnings to motorists caught abusing the rule.
A Kent County Council spokesperson said: "The signs at the end of the High Street in Maidstone were given approval by the Department for Transport before they were installed, so fully comply with Traffic Signs Regulations.
"We have been working with Kent Police to give drivers more advanced warning of the restrictions in the High Street."