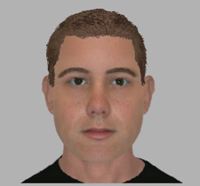 This thug is being hunted after kicking a man around 30 times in front of his terrified wife during an unprovoked attack in a village street.
The 51-year-old was waiting to be picked up after a night out in Kemsing, Sevenoaks, when he was targeted.
The attacker - in his late 20s or early 30s - repeatedly kicked the man as he lay vulnerable on the ground.
The victim's wife screamed as she pulled up outside the Kemsing Motor Company, in West End, and witnessed the assault.
She told police the attacker also threatened her before fleeing in the direction of the High Street when police were called.
The victim, from the village, suffered serious injuries, but is now out of hospital and recovering at home.
Now his wife has helped police create an efit (pictured right) of the attacker.
The thug is described as 6ft with slightly olive-coloured skin. He was wearing a mid-length black jacket or winter coat with a drawstring at the waist and approached the victim from the Childsbridge Lane direction.
Kent Police officers have conducted house-to-house enquires, obtained forensic evidence from the scene, spoken to witnesses and are reviewing CCTV footage.
But officers are keen for anyone who recognises the image after the attack, at about 11.20pm on Saturday, February 23, to come forward.
DC Lynda Birch, from Kent Police, said: "This was an unprovoked attack which caused the victim several fractures and broken bones. He is still having ongoing treatment for his injuries.
"Hopefully, by releasing this e-fit, someone can out a name to the face."
Witnesses or anyone who knows the man pictured is asked to phone Kent Police on 101 - quoting crime report YY/3624 - or Crimestoppers, anonymously, on 0800 555 111.