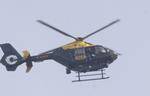 Police launched a search for a 90-year-old man after he went missing on one of the coldest nights of the year.
Officers scoured Larkfield last night, while the force helicopter circled above.
A resident called Kent Police when the pensioner, who is believed to have dementia, knocked on their door at around 8.50pm.
About a dozen patrol cars were seen parked in St Martin Square and teams spent several hours in below freezing temperatures trying to trace the elderly man.
He was found safe and well at about 1am and was returned to his Larkfield home.