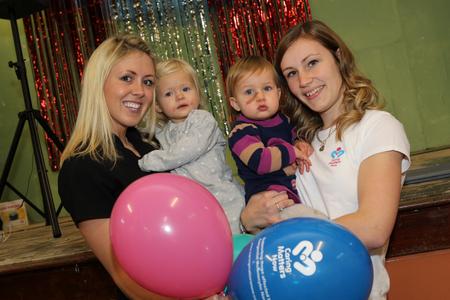 Two families came together to raise about £1,000 for causes close to their hearts.
Peter and Heidi Griffiths and their friends Ellen Tredget and Gary Blake all suffered heartache when their daughters were born last year with medical conditions.
Oliver Blake was born in September with a congenital melanocytic nevus (CMN), a type of birthmark, which covered her right cheek. She had an operation earlier this month to remove it.
Florence Griffiths arrived one month later but was immediately put in intensive care and diagnosed with pneumonia.
One year on, and both girls are now happy and healthy. To celebrate their promising future the couples, both from Maidstone, held a community fundraiser at Coxheath Village Hall, in Stockett Lane.
The fun day was in aid of the Oliver Fisher Neonatal Intensive Care Unit at Medway Maritime Hospital, Chatham, and Caring Matters Now, a charity which supports people with CMNs.