by Mary Graham
mgraham@thekmgroup.co.uk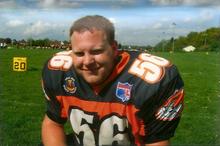 American football player Alan Newcombe who tragically died during a game had intended the match to be his last before embarking on a new career.
Mr Newcombe, 26, who played for Maidstone Pumas, collapsed during the closing stages of a match against East Kent Mavericks at the Keynes College playing fields at the University of Kent in Canterbury, on Sunday.
He had just come off the pitch after playing most of the match. It was to be his farewell performance, before joining the RAF in October.
Despite the efforts of paramedics, who arrived around 4.45pm, he could not be revived.
His devastated family paid tribute to Mr Newcombe, who was known as "Minty" by his club.
They recalled a ferocious player on the pitch, which had earned him a player of the year trophy, but a loving and laid back son and brother who always put his family first.
His father Jim said: "He was very successful player and he was an all-round nice fella. He would do anything for anyone. People have been amazing. We have been reading the tributes to Al and it has made us cry."
Read the full story in this Friday's Kent Messenger.