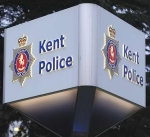 A father-of three who was caught by police trying to inject heroin into himself - shoved the rest of his stash up his bottom as officers tried to arrested him.
Daniel Cribben, 37, was spotted in his car by officers in a patrol vehicle who tried to stop and arrest him by aiming a taser gun at him.
It was at this point they noticed he had a small wrap of the drug in his hand.
After handcuffing him and searching him they couldn't find the small package, but when he was put in the cells and strip searched the drug was eventually removed.
Cribben, of Keats Road, Aylesford, appeared before magistrates in Medway this week where he admitted being in possession of a class A drug and obstructing a police officer.
Debbie Jones, prosecuting, said: "When it (the drug) was removed it was found to be 2.5 grams. He admitted concealing the wrap during interview with police.
"He told them he had been using it for seven to eight weeks after the loss of his mum and told officers he had paid £120 for three grams."
The court also heard the death of his mother earlier in the year had a profound affect on him and that he'd had a delayed reaction to it and started using heroin again.
He had not touched the drug for 13 years before that.
The bench also heard that since his arrest he had enrolled himself on a drug intervention programme.
Magistrates gave him an 18-month conditional discharge and ordered he pay £85 court costs.