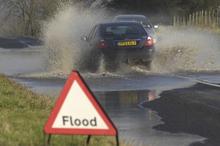 The Environment Agency has issued a flood alert that could affect parts of the Weald.
A flood alert is in force for areas near the River Beult, between Headcorn and Pluckley. Flooding could affect Headcorn, Smarden, Collier Street and Benover.
The agency has issued several warnings across the south-east as heavy rain fell over the weekend. Many warnings are still in place on Monday morning.
Earlier this week the organisation warned that Britain's unusually wet summer could mean flooding this winter.
The wettest April to June on record and further wet weather from July-October has left river levels full, the ground saturated and ground waters in some areas exceptionally high. It says this situation means it might only take relatively little levels of rain for flooding to occur.