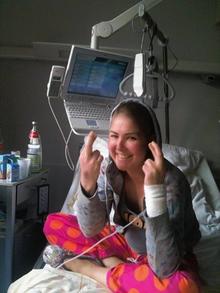 by Andy Gray
A fun day tinged with sadness will be held to remember former St Simon Stock Catholic School pupil Natalie Langworthy.
The mum-of-one died last month aged 35 after a "monumental" battle with leukaemia.
The gathering takes place next Saturday, March 31 on the playing fields of her old school in Oakwood Park.
What was meant to be an event to help pay for her ongoing treatment will instead be a fundraiser for leukaemia research.
Natalie, who moved to Australia from the family home in Abingdon Road, Barming, five years ago, was diagnosed with a rare and aggressive form of leukaemia in March 2010.
In November that same year, she was told it was in remission after she underwent experimental treatment in Germany, funded by a worldwide appeal which raised about £100,000.
Sadly, the cancer returned.
Natalie's mum Deborah, who still lives in Barming, is expected to attend the fundraiser at St Simon Stock Catholic School between noon
which includes a football signed by Manchester United's first team are planned events. Her old classmates are compiling a scrapbook of memories and photos to send to Elkie in Australia.
For more details visit www.savenat.org