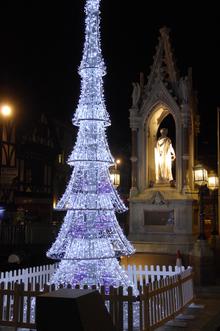 Shoppers are being urged to take part in a new scheme aimed at making festive shopping more fun – and helping the local economy.
Fifty Maidstone stores have signed up for the Independent Christmas Crawl, part of a nationwide initiative which supports independent shops.
The names and locations of participating businesses are listed on a map, available at the KM office in Middle Row, Maidstone council's Gateway in King Street, Maidstone Museum, Hazlitt Theatre and at the firms which are taking part.
Shoppers are asked to get a sticker and signature from at least 30 participating businesses before returning their completed maps to the Gateway or KM office.
All those who return the maps will then be entered into a free draw to win three cash prizes ranging from £100 to £350.
The scheme runs until Christmas Eve and winners will be drawn on Tuesday, January 8.
Cllr Malcolm Greer, cabinet member for economic and commercial development, said the crawl was a chance for small traders to literally put themselves on the map.
He said: "This is a peak time of year for retailers and it's important to make the absolute most of it.
"For shoppers it gives a fun and exciting opportunity to explore different retailers and to buy beautiful, different gifts that aren't mass produced.
"We're looking forward to spreading the word amongst the locals and building excitement about the great independent businesses in Maidstone."
More information from www.visitmaidstone.com