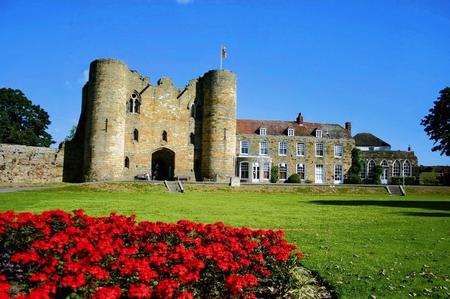 Vandals have daubed graffiti on centuries-old Tonbridge Castle - which dates, in part, back to the 13th century.
The guardians of the Grade I-listed building spotted the unsightly paint marks on Friday.
The initials of 'THC and 'THF', known as graffiti 'tags', were visible on a rubbish bin, a window of the Chamber Room and some information points.
The West Tower wall, by the castle gate, and the Curtain Stone wall next to the gate were also targeted with illegible squiggles.
In all cases yellow paint was used, and police have found a spray can nearby, which is being examined for evidence.
PC Alex Campbell from Kent Police said: "Unfortunately, reports of vandalism in the area are quite common, but usually the only items damaged are the bins and chairs in the area.
"On this occasion some of the castle walls have actually been sprayed."
The paint has now been removed by specialists.
Tonbridge Castle is a popular visitor attraction and dates back to 1273.
Anyone with information should contact Kent Police by calling 101 and quoting crime YY/1578/13. Alternatively, call Crimestoppers anonymously on 0800 555 111.