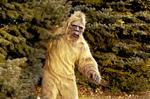 It's all quiet on the Yeti front following claims a hairy 8ft beast was spotted roaming in Tunbridge Wells woods.
In last week's Messenger it was reported the demonic creature, known as the Kentish Apeman, was spotted by a terrified member of the public bounding about the town's common.
After the initial story appeared on the Tunbridge Wells People website, keyboard warriors took to email to reveal tales of similar sightings.
But a month has passed since the most recent reported brush with Big Foot, which suggests the trail has gone cold or, heaven forbid, the monster was merely a prankster in fancy dress.
But some people will travel to the ends of the earth – not just Tunbridge Wells – for a slice of Sasquatch action.
A group of intrepid IT workers are heading off to the Himalayas in search of Yetis – and failing a Yeti, some pretty spectacular views.
The three staff members from Custodian Data Centre, based at Maidstone Studios in Grove Green, were due to fly out to Kathmandu today to start a two-week charity trek up the slopes of Mount Everest.
Managing director Rowland Kinch, who is part of the team, said: "While we're slightly terrified about the thought of landing at the world's most dangerous airport, we're delighted to be able to support this worthwhile charity by doing something personally challenging.
"Spotting a Yeti would be a bonus."
For full story read Friday's Kent Messenger.
Have you seen the Yeti, aka the Kentish Apeman? Call the KM newsroom on 01622 695666 or email messengernews@thekmgroup.co.uk. You can write to us at Kent Messenger, 6&7 Middle Row, Maidstone ME14 1TG