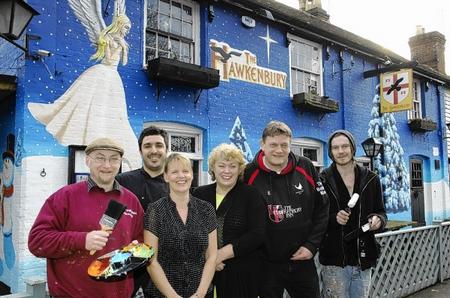 A couple have gone above and beyond the call of duty to spread Christmas cheer to everyone who passes their pub.
Lesley and Russell Sparkes run the Hawkenbury Inn, a cosy countryside pub. But they like to offer something unique and hard to miss.
The pub, between Headcorn and Staplehurst, has been transformed with a winter wonderland picture.
Its exterior has been painted with a snowy scene, including a twinkling midnight sky, reindeers and snowmen. Father Christmas can be seen climbing up the wall.
This is the fourth year the landlords have commissioned the eye-catching scenery. In previous years, the three wise men on camels have pulled in the punters.
Mrs Sparkes said: "We have seven grandchildren so we know how exciting this time of year is for youngsters and we just wanted to do something fun at the pub. It's not just the kids who love it – we get people ringing up asking when it will be finished so they can plan and book their Christmas parties.
"My husband wanted to paint a huge England flag on the front when the World Cup was on but I had to put my foot down on that one."
The annual work of art is created by Dean Tweedy of Marvellous Murals, in Sittingbourne.
They get together in October to decide the Christmas theme. He starts the challenge in mid-November aiming to have everything ready for the start of December.