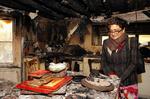 A Marden dentist has spoken of the devastating fire which gutted her grade II listed home and killed her beloved dog.
Kaumudi Dhutia felt "absolute destruction " on hearing 13-year-old Labrador cross, Bertie, died in the blaze which caused more than £100,000 worth of damage at 500-year-old Church Green House in Chantry Road.
Fire broke out in the kitchen of the five-bedroom detached property, believed to be the second-oldest house in the village.
It was unoccupied at the time as Mrs Dhutia was visiting her daughter in Spain.
A member of staff at nearby Marden Dental Care, the surgery she has run for 25 years, dialled 999 after a passer-by saw smoke pouring from the chimney.
Six crews spent four hours battling the blaze which destroyed the kitchen- where the dog was found still in his basket - and a bedroom directly above it.
Thinking the dog was still sleeping, firefighters took Bertie to a nearby vets but he had died of smoke inhalation.
The fire is still under investigation, but it's thought the cause may have been an electrical fault.
Although devastated by her dog's death, Mrs Dhutia has been overwhelmed by the support of villagers following the tragic incident on Friday, February 1.
She said: "Everybody knew Bertie, he was known as the Dentist's Dog.
"The damage to the house was far worse than we could've imagined, but a house can be replaced, a dog can't.
"I've had so much support from staff, patients and neighbours.
"People have offered me accommodation in their homes and even offered to do my cleaning.
"Everyone's been so helpful and I'd like to thank them for all their kindness."
For full story, read this Friday's KM.